How long have you worked at Musopia?
Since 2017 so little over 5 years now.
Why did you want to work for Musopia?
I was a bit burned out by my freelance work and Musopia seemed like a dream come true compilation of my interests. So I kinda jumped the gun immediately after seeing a position available that suited my talents.
Where have you worked before Musopia?
I was doing mostly freelance audio engineering and session and live replacement musician stuff. Here and there I had shorter jobs at various establishments. Like at the Finnish broadcast networks tech department handling production unit inventory.
What is your area of responsibility at Musopia?
Right now I'm a bit split by two things: I'm the guy who is responsible that the app is getting all the music data it needs once our productions are finished. Secondly, I do growth initiates which means handling tech requirements and practical implementation of anything related to in-app messaging and purchasing.
What do you like best about working at Musopia?
The list is way too long for me to mention everything in this interview, but picking just one ain't easy either! I'd say for me it has to be the company culture. I never imagined feeling so at home at any office, but I love the friendly banter with like-minded people with whom I share not just the passion for music but also many other aspects considering the app, games, and music in general, to name a few.
What do you think are Musopia's strengths?
We've maintained things pretty grounded. Startup and software companies tend to have this buzz going on that sometimes overshadows the actual doing. We've acquired the best people and grown as a company in recent years and somehow kept the can-do attitude without falling into the hype train or deviating from our core competence.
For me, music is the language of emotions. With the help of music, I can store memories, release stress, and induce any feeling I want.
How have you been able to develop your skills at Musopia?
Well, I was thrown straight to the deep end at the start of my career at Musopia when one of the senior programmers left to pursue other options. So, I had to learn a few new languages and jump from a trial period to maintain our two flagship products overnight. I love the challenge and my recent assignment has allowed me to also learn backend development which was kinda the last thing I thought I'd do but here I am enjoying the new challenges.
What is your musical background?
I started classical singing at the age of 8 when I joined the Cantores Minores music school and continued my training throughout the years. I've been singing in some of the most prestigious choirs in Finland over the years and have been performing with various pop, rock, and metal ensembles as well. At High school, I took interest in the technical side of music, and in recent years I've slowly transitioned from a performing musician to operating the mixing console.
Do you play an instrument?
My voice is my main instrument for sure, but I can play most of the band instruments on a level good enough that I can write for them and arrange their pieces, but you would never see me on the stage playing the piano in front of a bunch of people, for example.
What kind of music do you listen to?
Basically anything except SoundCloud rappers that I consider as mumble rap, but I have a sweet spot for 80's metal. In recent years Ghost has grown to have a remarkable influence on me. They sound old and yet modern at the same time. I've also dipped into electronic music but my taste is still a bit picky on those tunes since I tend to love more organic music played with real analog gear and not to a click track. Maybe that's why Ozric Tentacles and older Kraftwerk warm my heart since they are combining the electric components in a way that sounds natural to my taste. I also really enjoy some Deadmau5 with his full room of analog synths. I need to mention classical music as well. I grew up with Brahms, Mendelssohn, and Bach, but on a more modern note, all choir geeks need to mention Eric Whitacre, don't they? But when it's about tonal music and beautiful lush chords and I'm game!
How do you feel music makes the world a better place?
For me, music is the language of emotions. With the help of music, I can store memories, release stress, and induce any feeling I want. It is a healing force that everybody should be able to enjoy and also make if they so desire.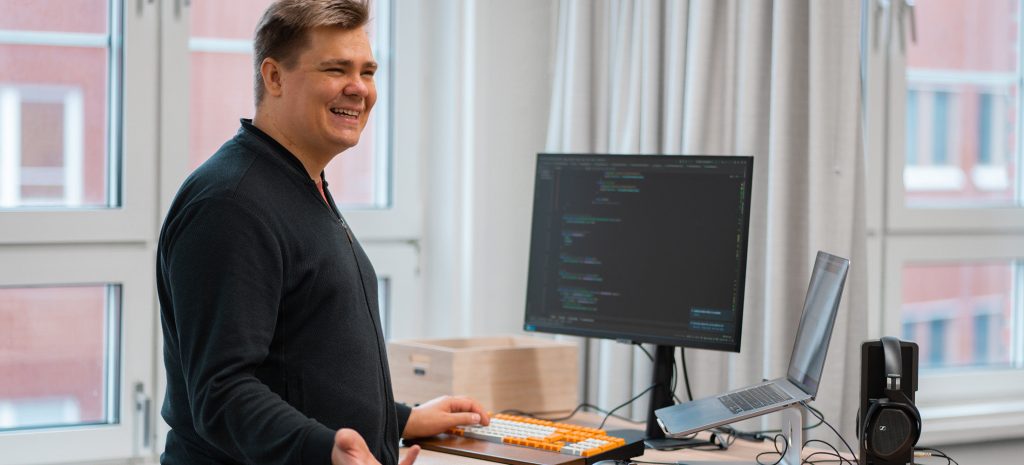 What is the meaning of music in your life?
I live through it. Music is my best friend and my lover.
What is your guilty pleasure song, the song that you secretly love?
I have to say Heath Hunter's Revolution in Paradise. It was my second CD ever, I think. I bought it during a trip to our cottage back in -96 and had only that in my brand new Walkman and it just stuck with me ever since.
What kind of coffee do you start your working day with?
If I brew it myself, my favorite is a large cup of some washed bean light roast. If I however get my morning coffee from a coffee shop, I opt for a Triple Latte to go. However, if you see me walking with a cup of coffee from a coffee shop you know that I'm most likely running late from somewhere since I had to get my coffee from a coffee shop instead of brewing it myself.
Which famous musician would you like to jam with, if possible?
Right now Victor Wooten… but all in all I'd say, Stevie Wonder. He is just so inspiring and positive and I simply love his music.
Get to know our Head of Content & Learning, Antti Rajala.
Find more interesting reads here