If the face in the photo above this article looks familiar to you, there's a good chance you have already stumbled across it, especially if you're into music! You might have come across Jenane's Instagram and TikTok accounts in social media, with both accounts already having over a million followers worldwide.

Jenane McCulloch is a professional singer, but it doesn't stop there! The talented 26-year-old musician also knows her piano and clarinet and is an inspiring ukulele player. Her experience with the ukulele is actually the reason why we sat down with the Tennessee-based musician. Jenane has told in her social media channels that to learn to play the ukulele, she uses Musopia's popular Kala App.

We wanted to know her thoughts on the app and how it has helped her hone her ukulele skills. "The lessons are the best part for sure. I can rewind or pause to practice as much as I need to, and they make it so easy to follow along. It's definitely the next best thing to having private lessons. Lately, I've been working on "Riptide" by Vance Joy."

At first, she tried her luck with the guitar, but the instrument soon changed into a ukulele. Why was that? "Honestly? Playing the guitar really hurt my fingers. I know that's such a small thing to deal with, but who likes pain? But with the ukulele, it hurts a lot less than it did when I tried guitar!" she explains. She hasn't given up on learning to master the guitar at some point, though, so perhaps we will hear her play the guitar at some point in the future as well.

But let's focus on the present! What is the Nashville-based musician up to nowadays?

"I'm a full-time professional singer! I make original music in addition to performing in touring party bands, singing in sessions, and providing background vocals for fellow artists."

My main love of it is in performance. I'm happiest when I get to perform and get that energy from the crowd. For some people, it's songwriting and production, and I do like those things as well, but the payoff for me is when I get to perform, and I'm thrilled that I get to do that so much.
She majored in music in college in Nashville and still lives in the city. Right after graduating, she started to play with a cover band that took her out every weekend, which led to many other things.

She's enjoying building her career based in Nashville. "If you want to be a singer in the U.S., you either have to live in LA, New York or Nashville. Those are definitely the biggest music hubs in the country. Nashville has a whole lot of songwriters, so if you want to write and make your own music, it's the best place to be." While Nashville is known for its country music, Jenane and most of her friends concentrate mainly on pop and rock music. Most of her friends are in the music industry as well.

While Jenane loves all aspects of being a musician, her biggest passion is performing. "My main love of it is in performance. I'm happiest when I get to perform and get that energy from the crowd. For some people, it's songwriting and production, and I do like those things as well, but the payoff for me is when I get to perform, and I'm thrilled that I get to do that so much."

Jenane does indeed get to perform a lot. She plays in several bands, and just one of the bands has shows 3–4 times a week. They play in Nashville, but they also go on tours to different cities. Being part of many different bands keeps the singer busy. "With Party Down, we do a lot of tours and weddings. I also do background vocals for a young artist, and I substitute for other bands when they need a singer, and I happen to be free, which doesn't happen often these days! I'm also part of a girl group called ElectraQueens."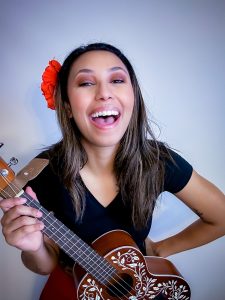 She's known all her life that she wanted to be a musician. Before fourth grade, she dreamed of becoming a magician, but once she joined the choir in fourth grade and realised she could sing, she decided to become a singer instead.

Her first instrument was the clarinet, but she decided to opt for other instruments because the clarinet lacked one significant feature: the ability to sing while playing. This is something she can now do with the ukulele. "I chose the ukulele because it was such a beginner-friendly instrument to get used to a string instrument".

Jenane's ukulele tutorials are very sought after by her followers on her social media accounts, and she is often flooded with messages from her followers requesting her to make new tutorials of specific songs. "My fans are funny, sweet, but also demanding. Once, I had a cold, and I was trying to rest my voice for a while, but it was hard to do that properly because my fans were so eager to get new tutorials to learn new songs. I'm really grateful to have such enthusiastic followers!"

She has built her large follower number very fast; it has just taken a couple of years. "You just need to find the things that work and stick to them. When I realised that people wanted the little voice lesson tutorial videos, I started posting more of those", she explains. Many of her videos on TikTok have millions of views and hundreds of enthusiastic comments, so Jenane's strategy can definitely be called successful.

When asked which of the social media platforms is her favourite, she pauses to think for a second. "I do like TikTok the best because you're able to reach such a wide audience. I have now started to do a lot of Instagram reels, though, and it works well too. The audiences on the platforms are very different, though. For example, in TikTok you have much more beginners who want to learn how to play."

For ukulele beginners, Jenane has a few tips. Even though most of us want to sing while playing the ukulele, don't try to do it straight away. "Definitely don't try to sing along at first, no matter how much you want to. Focus on getting the chords and the strum pattern down first!"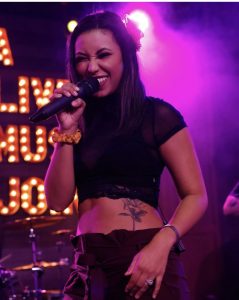 Jenane also emphasises the importance of making sure that your technique is solid straight from the beginning before you build a bad habit. "When I first started to practice the island pattern strum, I kind of learned it wrong. You're supposed to keep your hand moving the whole time. I paused at the top and got really used to doing it like that. When I then watched a tutorial video, I noticed that I had been doing it the wrong way all along, and I had to break the habit! That's the great thing about videos and apps like the Kala App because you can see the right technique and movements and have a visual."

"My favourite part of the Kala App are the videos and getting to watch how the instructor plays the songs himself, and you always have the possibility to rewind and pause if you want to look at something closely. It's definitely very user-friendly!"

When asked what her musical aspirations for the future are, she pauses to think. "I'm really lucky to be able to perform full-time and make enough money with that. My goal is definitely to be an artist and make my own music as well."

While we are on that topic, Jenane has some big news to share. "I have a song coming out soon that I have written together with my friend, Mark Demao. The song is called Light up, and it will be released in the spring of 2023. I collaborate a lot with my friends, and my goal is to continue writing more of my own songs."

She also has a goal when it comes to playing the ukulele and the Kala App. "I'd really like to learn to play The Lazy Song by Bruno Mars".

With her own music being released and new tutorials coming out, there's a lot to be on the lookout for in the future!
Check out Jenane's ukulele tutorials on TikTok!
Part 1, Part 2, Part 3, Part 4

You can also visit Jenane's Instagram account here!

Follow Musopia on LinkedIn to get the latest news.