As Musopia acquired the new office space late summer 2022, a musician's playground was on the top of the wish list.
Having a fully equipped music room inside an office is a feat of its own. Like many guitar players we were in a mindset that loud is good and louder is more good. How would that fit with the highly intensive task of being software developers?
With the duality of this task we were set up for a journey that would involve renovating the room from ground up to fit our purpose. First was the acoustic treatment of the room; an acoustic consulting company Akukon helped us transform the acoustics of an office into a music room that sounds great and feels comfortable to play music in. Having extra thick walls and double layered glass panels with bass traps and dampening materials we were able to bring down the inherent problem of having an hall reverb/echo of an old factory hall and the noise spilling to the actual office space in check. On top of that, we implemented an IEM system to be able to play with all the instruments with comfortable volumes next to focusing spaces. (More about that in the next Music Room blog post).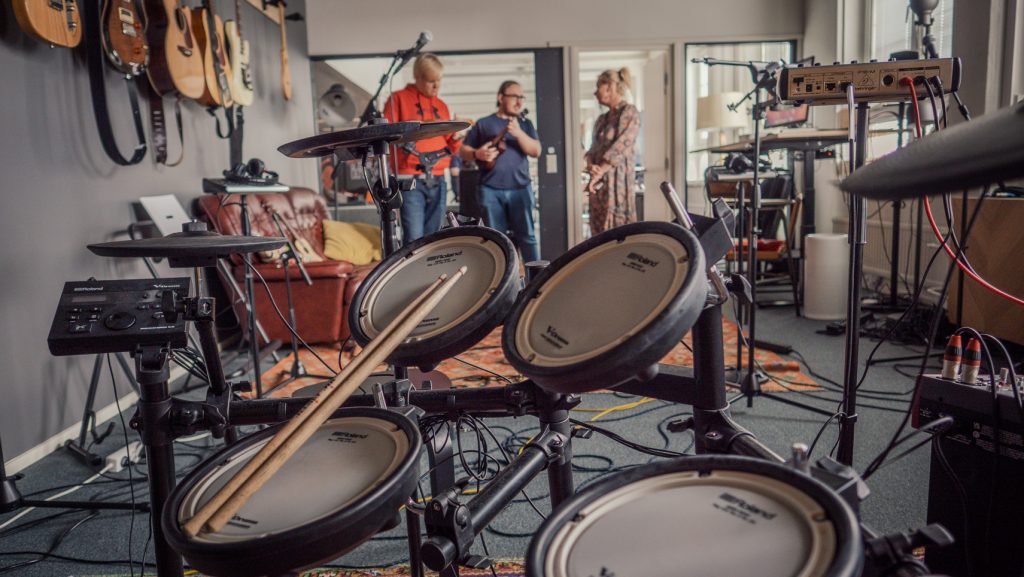 After completing the renovation and set-up of the Music Room during the fall, we found ourselves marching onto the first trial by fire. Musopia hosted a Slush Afterparty and the Music Room was to play a large part of the evening's entertainment.
The newly formed House Band "The Musopaths" had their first rehearsals just a week before the event. With time running out and common practice time was nowhere to be found we trusted in the individual talent of our band members to handle a basically new setup and a 40 min set of songs. That has something to say about the musicianship of our fellow Musopaths that we managed to pull this off and sound reasonably professional doing so… and to add to the mix the super talented Justin Sandercoe, alias JustinGuitar took the stage as well and rocked it with the Musopaths for a few songs (some planned and some chosen in the heat of the moment).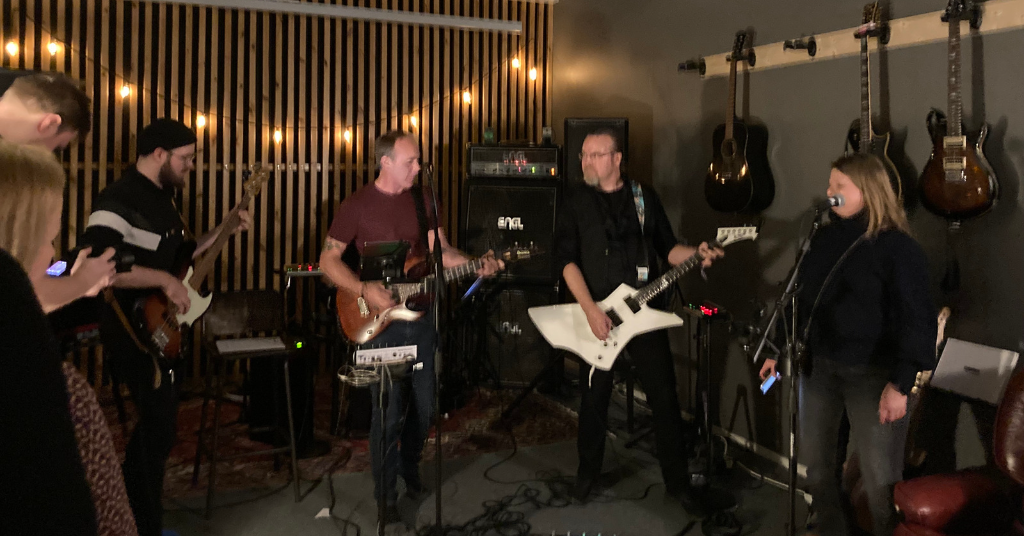 After this trial, we managed to transform the "normal office space" into the living beating heart of the afterhour sessions, and not just one or two groups have formed and used it as their rehearsal place. To us it is like an extension of a living room. A place where you don't worry about deadlines but just can immerse yourself in music.
So what was that gear set-up which we ended up with, after all vigorous pondering between different instruments and accessories, that provided such an opportunity to make this musician's dream come true in an otherwise quite busy and intimate workplace?
Well that's another story for the next music room blog. Read the second part.

Get to know our employees by reading the Music in My Life -series.

Follow Musopia on Linkedin